FIAT PROFESSIONAL COMMERCIAL VEHICLE SHOW STAND 'JUST THE JOB' FOR 2019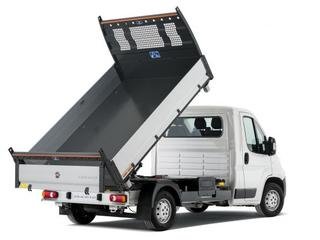 From 23rd April 2019
A broad range of exciting Fiat Professional vehicles will once again feature on the company's exhibition stand at next week's Commercial Vehicle Show, in Birmingham.
And this year, the line-up will be 'just the job' – literally – as the award-winning commercial vehicle arm of Fiat Chrysler Automobiles plans to illustrate just how versatile and wide-ranging its vehicles can be, across a diverse array of trades and applications.
Two Doblos, two Ducatos, plus a Fiorino and a Talento will feature on the Fiat Professional stand (hall 4, no. 4F30), each one liveried in the style of a trade or business. The full line-up includes:
Doblo panini van
Doblo lawn treatment van (Green Thumb)
Ducato ambulance
Ducato one way tipper
Fiorino Sportivo delivery van
Talento painter and decorator van
Fiat Professional Doblo Cargo
The fourth-generation Doblo is more functional and comfortable than ever. With economy and performance at the forefront, Doblo Cargo adds value to the work of every professional.
Its large, versatile load area, offering up to 1 tonne payload, includes convenient, ergonomic handles, practical 180-degree rear door opening and sliding side load door, putting the Doblo Cargo on top of the pile in terms of performance and ergonomic solutions. With a wide choice of five petrol or diesel engines – coupled with a manual gearbox – it offers four body styles plus extra length and height options too, meaning Doblo Cargo represents one of the widest ranges of vans in the business. Prices for the Doblo start at £14,090 (base price excl. VAT).
Fiat Professional Ducato
Ducato has sold more than 2.9 million units across six generations and continues to set the segment benchmark not only in Europe but in the 80 international regions in which it is sold. As well as coming in a variety of heights, loads and wheelbases, Ducato also leads the way in front line ambulances in the UK, helping to get paramedics to emergencies promptly, and sets the standard for motorhome base vehicles sold in Europe, where 70 per cent of all motorhomes are built on a Fiat Ducato. There is additionally a range of single cab and crew cab tippers.
The Ducato modular ambulance is a unique design comprising a Low-Floor Al-Ko chassis with a lightweight VCS modular ambulance body conversion. Key features include: a lowering air suspension system, integrated ramp, large side sliding door, external stowage lockers, front and rear emergency lighting, and LED interior lighting. The ambulances come with a three-year, 100,000 mile warranty with roadside assistance, and have service intervals of 31,000 miles. Pricing is available upon request. Prices for the Ducato start at £23,770 (base price excl. VAT).
Fiat Professional Fiorino
Fiorino – the 'Van Made For The City' – retains the compact dimensions that make it perfect for use in towns, agile in traffic and easy to park, without sacrificing any of its remarkable load capacity of up to 2.8 m3 and payload of up to 610kg. Perfect on urban missions, nimble in traffic and economical to run, Fiorino is the ideal vehicle for door to door deliveries and transport of all kinds of light goods.
Fiorino comes with a full range of latest compliant diesel engines and is also available with the nimble and frugal Euro 6D petrol engine, all great for the city. For those looking for easy driving, Fiorino also has the optional Comfortmatic automatic gearbox. Prices for the Fiorino start at £12,595 (base price excl. VAT).
Fiat Professional Talento
Talento is the ideal workmate for professionals, on city streets and major roads alike, thanks to its great versatility and ability to adapt to the most diverse needs of its customers. The latest model is equipped with reliable, powerful and efficient turbo and twin-turbo diesel engines with six-speed manual gearboxes and power outputs of up to 145hp. Technology such as Traction+, ESC, ABS and Hill Holder to make lighter work of any road condition or situation.
Inside, the Talento is designed with a combination of comfort and functionality – a centre seat with pop-up table, rear camera displayed in the interior mirror, and a 7-inch touchscreen radio/navigation system are among some of the clever solutions for professionals. The result is a functional vehicle that helps users maximise the value of their work, time and investment by focusing on their needs. Prices for the Talento start at £20,795 (base price excl. VAT).
"I am delighted that we have such a great selection of our award-winning vehicles, and in the livery of some of our valued customers, on this year's CV Show stand," says Richard Chamberlain, Country Manager, Fiat Professional UK. "It's truly a reflection of our consumer relationships and how we look after our customers.
"The stand this year reflects the breadth and versatility of the Fiat Professional range and highlights just why our vans continue to develop and meet the exacting demands and expectations of customers of all sizes – single user to large company. With this current range, we will continue to grow throughout 2019 and beyond."
The Commercial Vehicle Show is the largest and most comprehensive road freight transport, distribution and logistics event staged in Britain. The 2019 event takes place at the NEC, Birmingham, on 30 April – 2 May.